Whereas the "One Belt, One Road" initiative is opening to new economic relationships with Pakistan, the Muslim community draws attention to Uyghur and Huí restricted conditions of freedom
By Glauco D'Agostino

Political control over religions
Last April 22nd and 23rd the Second National Conference on Religion took place in Beijing. Xi Jinping, President of the People's Republic of China and Secretary General of the Communist Party, warned the Chinese people, especially those living in the Xīnjiāng province, to avoid practicing Islam and follow the Chinese government policy of "Marxist atheism". The communist regime, its President on the front line, is making efforts to tighten control over religions, as it believes they, especially Islam and according to Marxist theory assumptions, might result as forces in competition with the single-Party system, if they were not early stifled in the bud. "Don't confuse yourselves with non-CCP approved tendencies" and "never find your values and beliefs in this religion or any religion", President roared.
Nevertheless, next June 5th, the first day of the holy month of Ramaḍān for the Islamic Umma as a whole, Zhang Chunxian, Secretary of the Xīnjiāng Regional Committee of the Communist Party of China, wished all the best to Muslims of different ethnic groups for the sacred celebrations. These are the contradictions of a regime religious policy, on one hand trying to remain loyal to principles of a waned ideology, on the other acknowledging the strength of an experience, the religious one, which goes beyond the limits of time, as it's rooted in the popular tradition and increasingly present among younger generations. It's not only Islam to suffer this contradiction, but also Christianity, which is under attack in the eastern regions of the country by restrictions similar to the ones imposed on the Xīnjiāng Muslims, up to prohibiting the use of crosses atop churches.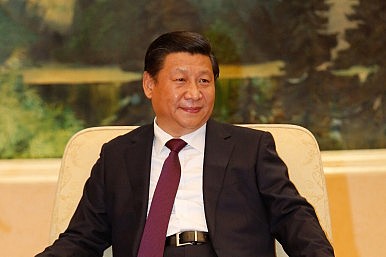 Actually, it's not the first time President Xi (left photo) has been using these tones. In 2014 he stated the Chinese government would have to prepare for a long struggle against the "separatist forces" focused on Xīnjiāng province, publicly assuming there is an ethnic-religious problem for Uyghurs in the border districts now some movements call East Turkestan, borrowing the term in use since the early decades of the 800's. Among them, the East Turkestan Independence Movements are a galaxy of pro-independence organizations, in fact serving different purposes, from those that focus attention on Uyghur ethnic identity, to those that refer to a wider religious identity within the Islamic Umma and even deny the existence of a Uyghur ethnicity.
As a matter of fact, Uyghurs, who are ethnically closer to Uzbeks and other Central Asian peoples, are Turkic-speaking Muslims, mostly Sunnis belonging to Ḥanafī theological school of law since IX-X century, following a first conquest of lands controlled by the Buddhist Iranian Saka at the hands of Kara-Khanid Khanate, afterwards enhanced by a XVI century second victory by the Eastern Chagatai Khanate over Buddhist Uyghurs of Turkic origin. Nowadays, Uyghurs established in the Xīnjiāng region are 10-15 million out of 23 million inhabitants residing in the AutonomousProvince and 30 million Muslims living in China; out from China they are about 500,000, mainly in Kazakhstan and Uzbekistan.
The area they inhabit, similarly to what has occurred in Tibet, in the XVIII century fell under the Chinese rule of the Qing Dynasty and later was inherited by the Republic of China in 1912. In 1921 the Soviets introduced the denomination of Uyghurs for people of the Xīnjiāng oases, who identified themselves by the name of each oasis. Especially due to the Three Districts Revolution (Ili, Tarbagatay, Altaj), which had threatened Chinese unity since 1944, after the People's Republic of China advent in 1949 that land endured a tighter control. The communist regime was extremely harsh because of believers' persecution, State atheism and anti-religious education. The 1966-76 "Great Proletarian Cultural Revolution" prevented the Ḥājj fulfillment, the Pilgrimage to Mecca, and its ban remained up to 1979. "To ensure successful pilgrimages for believers in Islam, Xīnjiāng arranges charter flights every year, taking more than 3,000 Muslims to Mecca in Saudi Arabia", Beijing claims now.
President Xi Jinping's speech was explicitly addressed to Uyghurs and Xīnjiāng, but even implicitly to Pakistan, which shares a border with China through Xīnjiāng and that Beijing has repeatedly warned for failing to control trans-border activities of Islamic indoctrination deemed to be radical. Xi, supported by Party simultaneous statements, said that Beijing regards these activities as foreign ideological infiltration and the main danger to its society, and that the consequent repression measures would have been intensified. The Party has also made clear this is an issue of national security. In this regard, August 4th just in Ürümqi, the Xīnjiāng capital city, China, Pakistan, Afghanistan and Tadzhikistan signed a joint statement on counter-terrorism cooperation: "The four parties agreed to establish the quadrilateral mechanism to coordinate with and support each other in a range of areas, including study and judgment of counter terrorism situation, confirmation of clues, intelligence sharing, anti-terrorist capability building, joint anti-terrorist training and personnel training", statement says.
However, allusions in the allegations of President Xi and Party may be read also with reference to the activities of Eastern Turkestan Islamic Movement, the pan-Islamist organization active in China since 1997 and that would have its organizational base in North Waziristan, Pakistan. This Movement, ruled by Chinese Uyghur 'Abd ul-Ḥaqq (captiously deemed to be assassinated in 2010 by a US drone and instead once again at the head of the group since 2014) and by 'Abdullāh Manṣūr (the regent ruler during his vacation), is outlawed in China, in Pakistan itself, and in Kyrgyzstan, Kazakhstan, United Arab Emirates, Russia, United States and United Kingdom, as well. But it seems this government emphasis on an extremist threat (actually, a marginal one in terms of population involvement) doesn't help to clear the atmosphere and improve a Muslim perception about Beijing attitude to a will for dialogue and understanding of Uyghur instances. On the contrary!
Ban on normal Islamic activities
For its part, Turkey, which has close cultural relationships with Uyghurs, had expressed "deep concerns" about restrictions imposed on Muslim Uyghur minorities in performing their religious services and in compliance with Ramaḍān rites, and it announced it sent a diplomatic note to the Chinese Embassy in Ankara, although in view of good relations linking both nations each other. Following a similar démarche forwarded in July last year because of recent Chinese anti-Muslim repressions, riots in Istanbul and a few bullying against some members of the Chinese community had occurred.
This year in Xīnjiāng government has forbidden Uighur Muslims, especially civil and party officials, teachers and students, to fast for Ramaḍān, often by forcing them to feed during the ritual prohibition time and threatening retaliation in their careers. Moreover, it's a long list of attitudes which are always banned in the region, despite in the recent white paper "Freedom of Religious Belief in Xīnjiāng" the government strives to show "an unprecedented religious freedom" and that "no Xīnjiāng citizen has been punished because of his or her rightful religious belief", where, of course, the dividing line is precisely the term "rightful". "China upholds the principle of independence and self-management in religious undertakings and foreign organizations and individuals must not interfere", white paper states. And more: "Normal religious activities in Xīnjiāng are protected by law, and religious organizations are responsible for coordinating internal religious affairs and the government should not interfere". And it specifies: "China prohibits any organization or individual from splitting the country, disseminating extremist religious thoughts, inciting ethnic hatred, undermining national unity, disturbing social order, or impairing citizens' physical and mental health in the name of religion". This statement is meant to safeguard the proclamation of 2016 as "Year of Ethnic Unity and Progress".
Meanwhile, the AutonomousProvince forbids as "anti-state" activities or radical behavior actions such as:
adhān

(call to prayer);

access to a mosque for under 18 young people;

public use of long beards, a

ḥijāb

and, even more so, of a

burqaʿ

. Just after protests against these prohibitions, in 2014 the police opened fire on Uyghur demonstrators;

any kind of proselytism off areas with a majority Muslim population;

eating restrictions, such as consumption of

ḥalāl

food (that is, licit by an Islamic point of view), because they "promote religious segregation";

daytime closing of restaurants during Ramaḍān;

a ban on drinking alcohol and smoking.
Nevertheless, signs of détente are not lacking, particularly with regard to Pakistan. For instance, on July 27th in Beijing Punjab Prime Minister Muḥammad Shehbaz Sharīf signed with Chinese enterprises 7 agreements and 17 memoranda of understanding in energy, textile, water treatment, steel, creation of industrial zones and training sectors, and in promotion of trade fairs and exhibitions. Also in July, at the Islāmābād Pak-China Friendship Center a photographic exhibition was inaugurated: it has been titled "Chinese Muslims on the Silk Road" and sponsored by the Chinese government in the 65th anniversary of Sino-Pakistani diplomatic relations. According to a CCTV Chinese TV channel report, one of the artist photographers, Bai Xueyi, who documented culture, practices and livelihood of Chinese Muslims along the Silk Road, deems that "after the economic reform and opening-up, Chinese Muslims […] and of the Huí minority group and other ethnic minorities have achieved much better livings".
This opinion mainly refers to the Huí community, more than 10 million Mandarin-speaking people, ethnically similar to the predominant Hàn, but Sunni Muslims with strong influences from Central Asian Ḥanafī Sufi brotherhoods (Kubrāwiyya, Qādiriyya, Naqshbandiyya). They are an offspring of Muslims migrated to China during the Mongol Yuan Dynasty rule (1271-1368). And one of the problems is right their condition. Because that freedom of expression and development allowed to Huí is not to all ten Chinese Muslim "nationalities", maybe because of an ethnic discrimination, or perhaps of a greater acquiescence to government and party directives.
Whatever the reason, it's precisely in Xīnjiāng that over the last twenty years the government has fostered an immigration of Hàn, also Mandarin-speaking people, but indigenous believers of traditional Chinese religions or even atheists, who benefited from the opportunities offered locally in the field of power or construction industries. Several analysts think (and the very Uyghur perception is) this led migration may have been planned for soften the ethnic and religious identity in the AutonomousProvince, especially in major urban centres. What's sure is the tension between ethnic groups has risen, resulting in violence that has in turn caused restrictions of religious freedom.
The Silk Road as a development factor
Certainly, there are contradictions, too. If in 1955, at the height of an atheist and Marxist-Maoist era, the Egyptian Minister of Religious Endowments could celebrate 'Īd al-fiṭr (the end of Ramaḍān feast) in Ürümqi, with the blessing and favour of Chinese Foreign Ministry, nowadays right Xīnjiāng is facing a kind of ostracism by a self-styled open-minded government of state capitalism and of alleged religious freedoms guaranteed by the Constitution (at least formally); conversely, the government grants its favour to the Muslim Huí of Níngxià, a North-Western Autonomous Region in the Yellow River basin. A sort of endorsement to an alternative, domestic and tamed Islam, which the Beijing attentions are targeting to for gaining credit from outer China Islamic areas. And considerable investment, as well, with a commitment of US$ 3.5 billion in just four years to make Yínchuān, the capital city of the Autonomous Region, a "cultural tourism destination" and a "World Muslim City" with Chinese names of streets translated and transliterated in Arabic. Among the latest creations, a Convention Center, which hosted the China-Arab States Expo, and the new Hédōng International Airport Terminal, built to convey tourists from the Middle East, the Arab world and the Islamic Asia, which Beijing intends to talk to culturally and commercially, in the wake of the "One Belt, One Road" initiative for the revitalization of the Silk Road: for example, following the inauguration of Emirates Airlines services last May, new routes will link Yínchuān with Jordan and Malaysia.
The monumental HuíCulturalPark, a "Sino-Arab cultural bridge", is a perfect example of that, with a mosque-shaped "GoldenPalace", architectural works inspired by the Istanbul Blue Mosque and by the Tāj Mahal of Āgra, and artistic costume events evoking "The Thousand and One Nights".
Therefore, the Silk Road as a development factor also for the most isolated Muslim communities and an opportunity for Xinjiang, as well, which so far had been excluded from the railway networks connecting each other the major Central Asian urban Muslim areas. Since 2014 a Lánzhōu-Xīnjiāng high-speed railway has been operating, where, according to the National Development and Reform Commission of China (the State Commission responsible for Planning), the latter Autonomous Region is expected to play a key role in the trade and mobility opening outside China. And the planned highway Ürümqi-Tadzhikistan should strengthen this need, along with a declared political will, for territorial connection with Central Asia. As long as, it seems obvious, legal and administrative conditions for people and goods traffic will liberalize. Especially since, in terms of dependence on foreign trade, Xīnjiāng (as indeed Níngxià) shows percentages ranking at less than 10%, compared with a national average around 45%.
The Chóngyáng Institute for Financial Studies, a think-tank founded in 2013 by the Renmin University and the private equity fund Chóngyáng Investment from Shànghǎi, in 2014 placed Xīnjiāng and Níngxià among the areas having the first type of strategy (the most important) of the "Silk Road Economic Belt": those provinces that are functional to the overall design of an opening to the outside and are provided with local plans and programs associated to this design. Still, the China-Pakistan Economic Corridor launched in 2015, i.e. the set of US$ 46 billion infrastructure investments aimed at integrating physical and exchange networks between the two countries, is expected to confirm this trend, considering the program is part of the 2016-2020 13th Chinese five-year plan and has already being implemented. Even Pakistani Prime Minister Nawaz Sharīf, speaking last August 29th in Islāmābād at the inaugural session of a summit on the Corridor, said the project will be a "game-changer" for the future of Pakistan, given the importance of the infrastructural connection that will link the southern port of Gwadar, on the Arabian Sea of Balōchistān, with Xīnjiāng (see map below).
China appears at a crucial crossroad. Whereas world is looking mainly at its fluctuating economic performances on the basis of business establishments and revenue opportunities, the Chinese, especially ethnic and religious minorities, are seeking to understand and interpret the intentions of the government, formally communist and launched to a hyper-capitalism. Of course, with a carelessness of the world press, all focused on the benefits merchants and global markets may take. If this Beijing double standard, the one repressive in domestic politics, another neo-mercantilist in foreign policy, will not match an acceptance of demands for free expression of ideas and of ethnic and religious identity, I don't believe China can remain immune from tensions and anguishes that plague many countries of the world.
Exactly as in the West, when some administration or radicalized political environment gives room for the mystic of secularist intolerance!