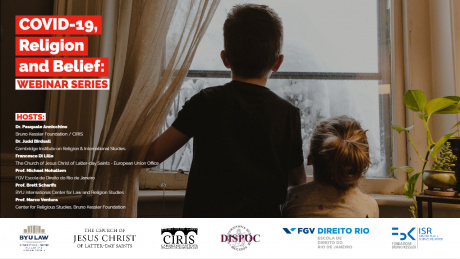 Organizers:
the Cambridge Institute on Religion and International Studies;

the Center for Religious Studies at Bruno Kessler Foundation;

the Center for Justice and Society at Fundação Getulio Vargas (FGV) Law School-Rio de Janeiro;

the International Center for Law and Religion Studies at Brigham Young University Law School;

the European Union Office of The Church of Jesus Christ of Latter-day Saints;

the University of Siena;
How is the pandemic affecting people's religiosity on the ground? Are the measures taken to limit contagion placing an undue burden on or stigmatizing religious groups? These and other questions will be the focus of discussion with representatives of civil society organizations.
Introduction to Webinars
The novel coronavirus has impacted countries across the world and is affecting many domains of our lives. While other initiatives are focusing on economic or health-related impacts of the pandemic, this webinar series aims at exploring the strategies and initiatives of governments and religious groups to deal with the crisis. The focus is global and will assess the impacts of the pandemic on civil liberties, and especially freedom of religion or belief. During the series, the guests will also touch on cross-cutting themes like the impact of the pandemic on levels of religiosity, on religious practice, on theological reflection and religious imagination, on faith-based humanitarianism, on religion and inclusion/xenophobia. The series brings together government officials, scholars and practitioners to discuss the threats we face, and how we might respond to them.
Hosts
Dr Pasquale Annicchino, Bruno Kessler Foundation / CIRIS
Dr Judd Birdsall, Cambridge Institute on Religion & International Studies
Francesco Di Lillo, The Church of Jesus Christ of Latter-day Saints-European Union Office
Prof. Michael Mohallem, FGV Escola de Direito do Rio de Janeiro
Prof. Brett Scharffs, BYU International Center for Law and Religion Studies
Prof. Marco Ventura, Bruno Kessler Foundation / University of Siena
Webinars
Weekly webinars will be live Zoom events open to the public. Participants will be able to submit questions in advance, or during the webinar by using the chat tool. Registration is required and free of charge at https://spark.adobe.com/page/4vSJTeJhUd96y/